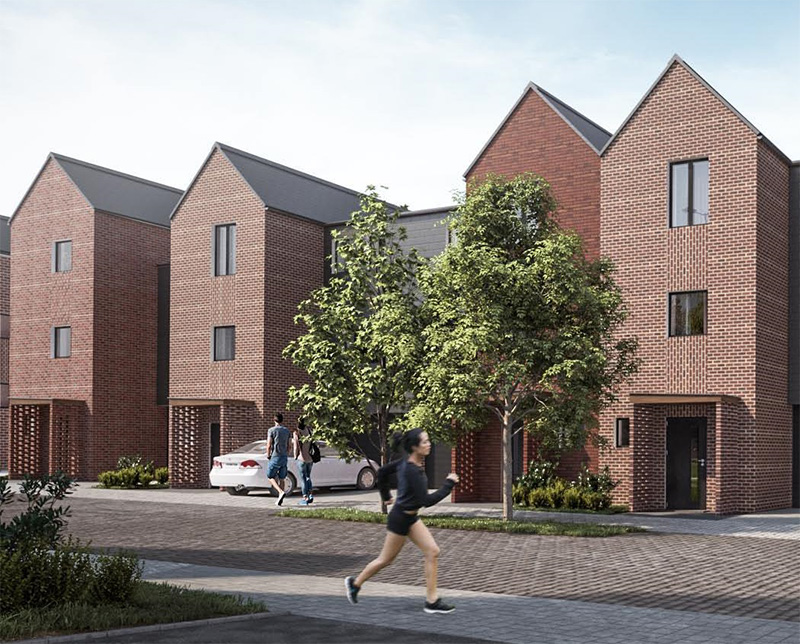 Artist's impression of The Marches.
WV Living has appointed a contractor to develop new homes at one of its largest sites in the City of Wolverhampton.
Wilmott Dixon has been selected as a partner to build 266 homes, including 67 affordable homes, on the site of the former Wednesfield High School on Lakefield Road, Wednesfield.
The new development, named 'The Marches', will see a collection of one, two, three and four-bedroom homes for sale, with a sales office set to open in June 2019.
Works are expected to start on site next month (May), with the first homes completed in early 2020.
The development forms part of WV Living's plans to deliver more than 1,000 new homes across the city over four years, as the council's own housing company.
Kate Martin, Director for Housing, City of Wolverhampton Council, said: "This is fantastic news for WV Living and for the city, The Marches will provide much-needed quality homes to rent and high-quality homes to buy.
"WV Living is continuing to support the overall house building programme in the City of Wolverhampton and in appointing Willmott Dixon we will also see real, long-lasting benefits for the local community.
"Willmott Dixon's business commitment to social value and sustainable futures is a real strength and we are confident this development will also boost local business and skills, and add further pace to housing growth across the city."
Simon Liversage, Director for Willmott Dixon in the Midlands, said: "We are delighted to be working with WV Living to develop and build over 260 new houses and apartments, creating new housing stock for the people of Wolverhampton.
"At Willmott Dixon, we also believe we have a purpose beyond profit and that includes leaving a lasting positive legacy in the areas where we work."
Work on WV Living's three other phase-one developments in the city are also well underway. The site of the former Danesmore Park Primary School in Ashmore Park is due to be completed in the summer and will have 52 homes, including 13 affordable homes for rent.
The former Ettingshall Primary School site, named Sweet Briary, will see 25 houses and nine apartments developed on it, with ten affordable homes to rent.
The former Prouds Lane Leisure Centre site, named Peascroft, will enable 40 new homes, including ten affordable homes. Both Sweet Briary and Peascroft will offer the option of shared ownership for potential purchasers.
Full information on the homes, the development sites and how to register an interest in viewing or buying, is available here.