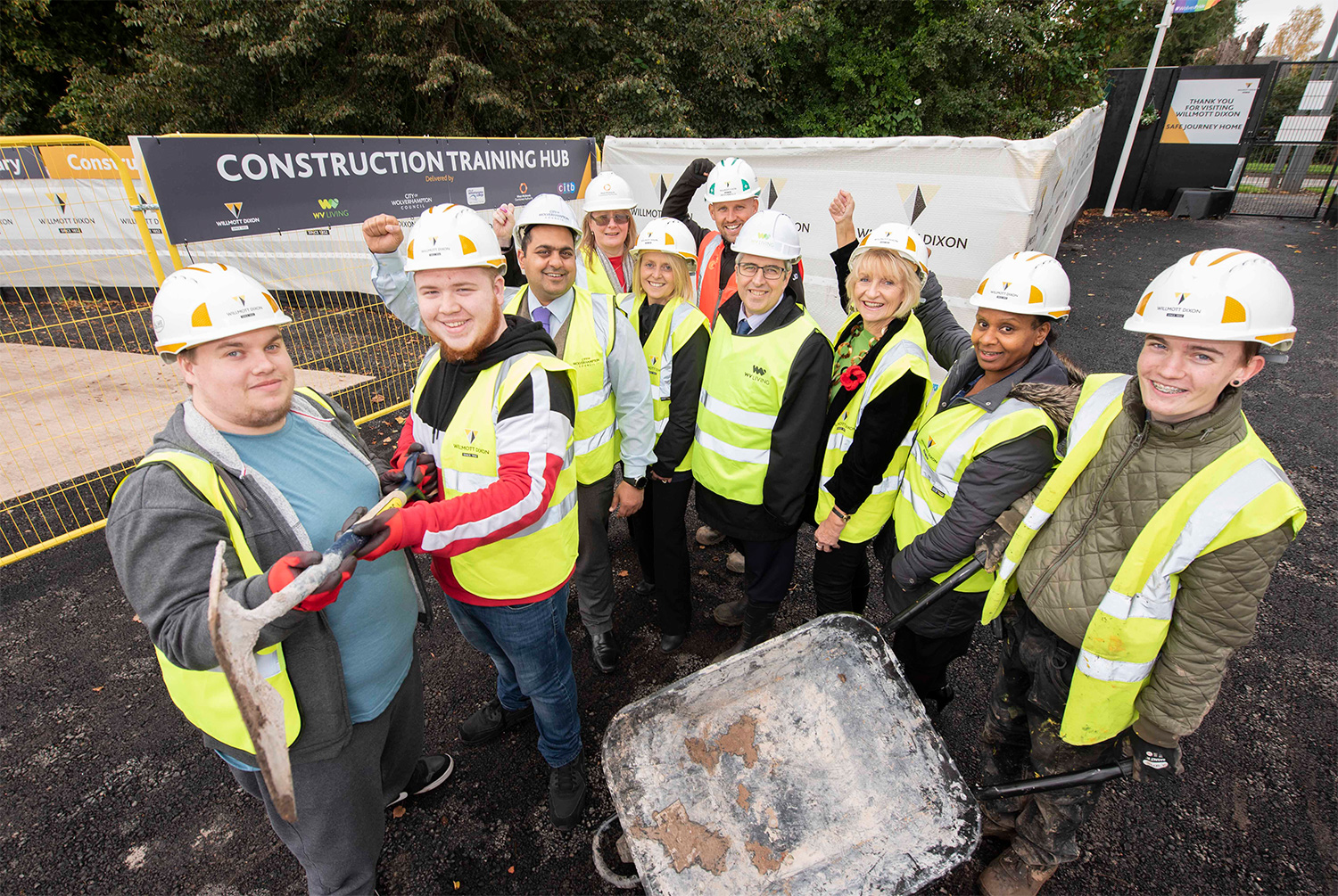 Unemployed Wolverhampton residents are benefitting from a new £100,000 sub-regional construction training hub in the city.
The hub is based at WV Living's 'The Marches' housing development on the site of the former Wednesfield High School and is being run by Wolves at Work employment programme in partnership with contractors Willmott Dixon and City of Wolverhampton College.
So far seven of the first 20 trainees to have completed a four-week course via the hub have found temporary or full-time employment, with regular support remaining in place from Wolves at Work to help find jobs for the others.
The funding comes from West Midlands Combined Authority (WMCA) after it unlocked £2.3m from the Government's Construction Skills Fund, to be delivered by the Construction Industry Training Board (CITB) for the creation of a series of regional training hubs.
More than 250 homes are being developed on the Marches site, and the first trainees are getting hands-on construction experience as part of their course at City of Wolverhampton College.
Councillor Harman Banger, City of Wolverhampton Council Cabinet Member for City Economy, said: "There are billions of pounds of investment on site or in the pipeline in the City of Wolverhampton and it is important residents benefit from this. This training hub is providing unemployed people in our city a clear route into the booming construction industry, delivering long-lasting benefits to the local community beyond the build phase. It will help boost local business and skills, adding to the pace of regeneration in the city while at the same time delivering WV Living homes people will love."
Simon Liversage, director at Willmott Dixon, added: "Although it is still in its infancy, this training hub is already changing lives by providing the expertise and knowledge for people to develop their careers. One trainee secured paid employment as a labourer with us on a local primary school construction site, and another is working with us onsite at The Marches now. At Willmott Dixon, we believe we have a purpose beyond profit and that includes leaving a lasting positive legacy in the areas where we work. I believe that, through the Construction Skills Training Hub in Wolverhampton, we are doing just that."
It is hoped a significant proportion of those accessing training at the regional hubs will be from groups currently under-represented in the construction industry, including women and ethnic minorities.
The hubs will advertise live job vacancies, which local people can apply for, with the aim that at least 50 per cent of those receiving training secure long-term employment.
The Wolves at Work employment programme, run by City of Wolverhampton Council and Department for Work and Pensions (DWP), has already helped more than 4,600 people into work since being established in early 2017. The WMCA worked in partnership with Wolves and Work and CITB to fund the Wolverhampton hub.
Andy Street, the Mayor of the West Midlands, said: "The construction industry in the West Midlands will need 50,000 more trained staff by 2030, and so we need to make sure local people have the skills to fill these jobs. This is why the WMCA is funding on-site training hubs in partnership with the industry across the region, so that more people benefit from hands-on experience to gain employment in the construction sector. The hubs are a great way to link local residents to job opportunities created by investment on their doorstep and give them first-hand experience of what it's like to work in construction, together with a guaranteed interview for a job at the end of their course."
Lorraine Gregory, CITB Partnership Manager for the Midlands and North, said: "We are delighted to support the training hub in Wolverhampton, which offers a fantastic opportunity for those wanting to get into the construction industry. Projects like this one are vital for bringing people into the industry, ensuring that as well as learning valuable skills, trainees will be gaining hands-on experience that ensures they are site-ready and able to move into employment."
Vic O'Brien, WV Living Chief Operating Officer, added: "We are delighted that WV Living's development site, The Marches has been selected as the base for the first construction hub in the city. This is a great opportunity for local people to work on a live site, giving students the opportunity to apply their knowledge in a real-world environment while building new homes and transforming neighbourhoods for the residents of Wolverhampton."
Anyone interested in opportunities at the Marches training hub should email recruitment@wolverhampton.gov.uk.