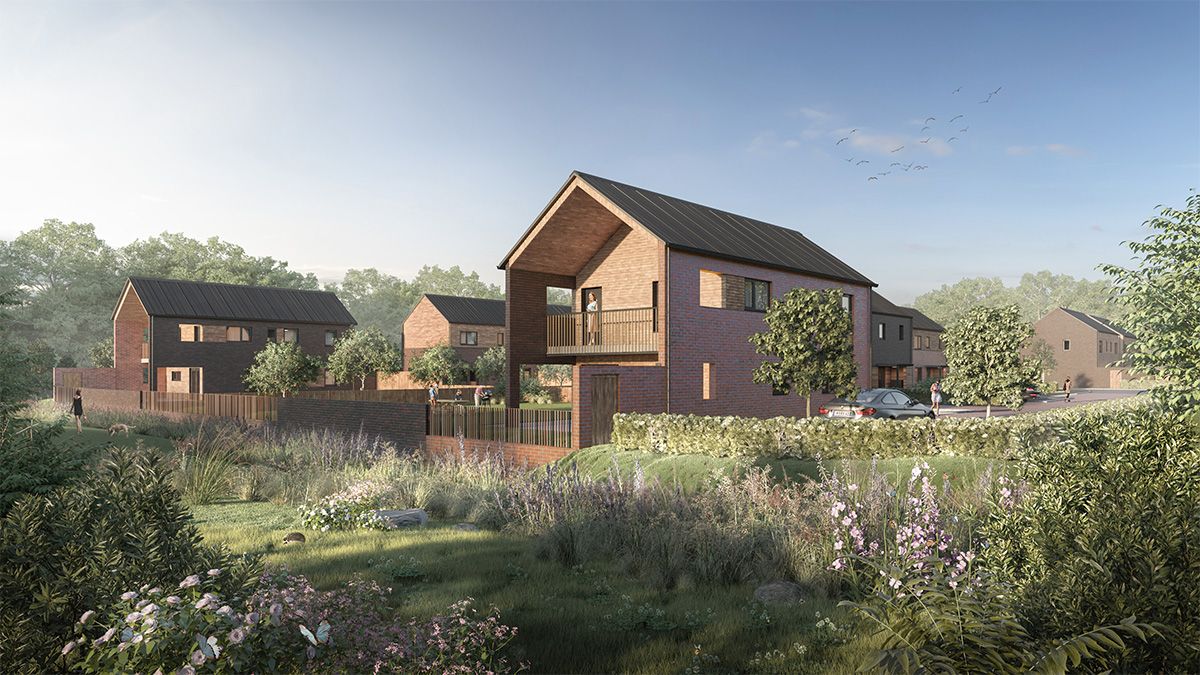 WV Living has appointed a contractor to develop homes in place of derelict buildings that have been demolished at the site of the former Wolverhampton Environment Centre (WEC).
Speller Metcalfe has been selected to build 14 family homes on the site off Westacre Cresent, while the remaining 90% of the original WEC land has been set aside for wildlife and opened-up to the public as part of the adjoining Smestow Valley Local Nature Reserve.
The development will be the first Passivhaus development for WV Living and will include two, three and four-bedroom houses, designed to complement and be sympathetic to the surrounding environment.
The development will contribute to the City of Wolverhampton's pledge to becoming a more sustainable, carbon neutral city by 2028.
The scheme named 'Willow Gardens' will provide family homes with ultra-low energy consumption. They will be built to rigorous eco standards, with superinsulation for energy efficiency resulting in ultra-low energy buildings that require little energy for space heating or cooling and as a result have a minimal carbon footprint.
The landscaping around the homes has been designed to complement the work done to rewild the wider WEC, and will be enhanced with bug boxes, bat boxes, bird boxes.
Work is due to commence in summer 2020 and be completed by the end of Summer 2021.
Councillor Peter Bilson, City of Wolverhampton Council Deputy Leader and Cabinet Member for City Assets and Housing, said: "As a council we are aiming to become carbon neutral by 2028 and this scheme aligns well with that.
"We are delighted to be working with Speller Metcalfe on this very special development for WV Living and have been impressed by their expertise in this type of building project.
"We have worked closely with the Tettenhall Neighbourhood Plan Steering Group and Finchfield and Castlecroft Community Association to ensure this small mixed housing development has been designed sensitively to fit in with the surroundings.
"It is also great news for residents and the city that following allocation of funding from the council and ERDF Blue Network Grant of £285,000, 90% of the original WEC land has been reassigned as public open space, something for future generations to enjoy."
Adrian Speller, Speller Metcalfe Technical Director, added: "Given the scale of the current climate challenge, it is more important than ever for us all to make efforts to live more sustainably so it's fantastic to be working with WV Living to deliver these extremely energy efficient new homes.
"Our expert Living division will bring a wealth of expertise and knowledge in sustainable and Passivhaus construction to the project, ensuring the properties are not only built to the highest quality standards but that they also have the greenest credentials."
Wolverhampton Environment Centre was formerly the site of derelict glasshouses, ancillary buildings and a bungalow, none of which were viable to bring back into use.
WV Living are midway through a programme to build 1,000 homes over five years, constructing new homes to help meet the high demand in the city.
Full information how to register an interest in viewing or buying, is available here.